Configure Appointment Details
We understand that things are changing outside, however our colleagues are still wearing face masks to protect you.
We require you continue to wear your mask whilst in the Practice too.
Appointments System
This is a group Practice and you are quite at liberty to see any of the doctors here. However, the doctors and most patients feel it is best to deal with one doctor as far as is reasonably possible. Routine appointments with your usual doctor may not be available for a few days. If you are unable to wait, an alternative appointment with another doctor will be offered.
Urgent Appointments
If you request an urgent appointment the receptionist will ask you to provide some basic clinical information in order to signpost you to the most appropriate clinician, dealing with emergencies or urgent requests.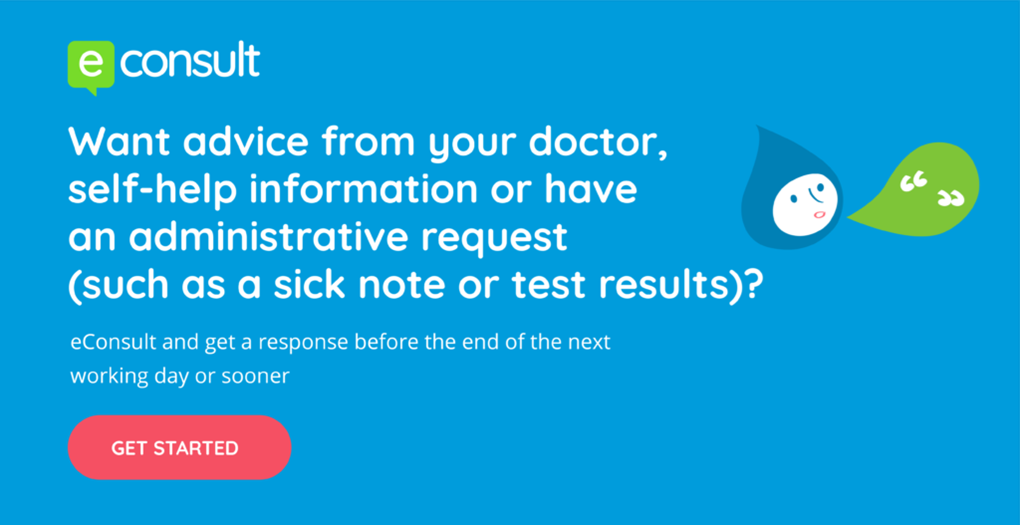 Online Services
For 24-hr access to routine appointments via the Internet, please click here to register for this service.
Registering for online services will give you 24-hr access to routine appointments – you can also use this to cancel your appointment.
Minor Illness Clinic
The minor illness clinic runs Monday to Friday with a morning and afternoon session.
The minor illness clinic runs Monday to Friday with a morning and afternoon session.
Monday and Friday: 08:30 - 12:00 and 14:00 - 17:00
Tuesday, Wednesday and Thursday: 08:30 - 12:00 and 14:00 - 16:00
We have listed certain conditions which are suitable to be seen in the minor illness clinic below.
Please note that in order to provide you with an appointment in the most appropriate clinic the receptionist may ask you for information about your medical condition. Your information will be treated confidentially in line with the practice's confidentiality policy. If you do not provide the receptionist with information when requested this may lead to a delay in providing an appropriate service for you.
Medical Conditions suitable for Minor Illness Clinic Appointment
- The condition should be newly occurring
- The condition should be less than two weeks duration
Coughs and colds

Sore throat

Sore/sticky eyes – conjunctivitis

Constipation

Bites and stings

Back pain

Boils

Cystitis/urine infection

Ear pain or discharge

Eczema/dermatitis

Emergency contraception

Mouth ulcers

Hayfever

Infected toe/finger

Ingrowing toe nail

Nasal congestion

Rash

Retained tampon

Shingles

Thrush

Vaginal discharge/irritation

Fever/raised temperature

Gout

Athletes foot

Impetigo

Sinusitis

Styes
Home Visits
Whilst we encourage our patients to come to the surgery, where we have the proper equipment and facilities available, we do appreciate this is not always possible. In this respect, if you do need a home visit, you can help us by calling reception before 10:30.
You may only request a home visit if you are housebound or are too ill to visit the practice. You will be asked for your name, telephone number and a brief description of your symptoms. This information will be passed to a nurse practitioner who may contact you and ask further questions about your symptoms to help her judge the urgency of your call and to decide what will be the most appropriate action.
You can also be visited at home by a community nurse if you are referred by your GP. You should also be visited at home by a health visitor if you have recently had a baby or if you are newly registered with a GP and have a child under five years.
Extended GP Opening Hours - South Shropshire Medical Group (SSMG)
Bridgnorth Medical Practice is a member of the South Shropshire Medical Group (SSMG), made up of Doctors, Nurses and Health Care Assistants working collaboratively to bring more flexible evening and Saturday morning appointments to our patients.
Who are SSMG?
The South Shropshire Medical Group comprises of 15 Medical Practices, offering appointments in various locations within South Shropshire, from 6:30pm until 8:00pm Monday to Friday and Saturday mornings 8:30am-12:30pm. This will allow patients to have more choice of where and when they are seen.
How do you access our services?
If you are a registered patient of Bridgnorth Medical Practice, simply call us as you normally do to book an appointment on 01746 767121. You will be given a choice of sites and clinicians available.
Who can access our services?
Any patient registered at any of the 15 practices listed below can access our services.
Our Member Practices
Albrighton, Alveley, Bishops Castle, Bridgnorth, Broseley, Brown Clee, Church Stretton, Cleobury Mortimer, Clun, The Meadows, Craven Arms, Highley, Ludlow, Portcullis Ludlow, Station Drive Ludlow, Much Wenlock and Cressage, Shifnal and Priorslee
For further information visit www.southshropshiremedicalgroup.co.uk
Cancel an Appointment
If you are unable to attend for your appointment, please cancel it as soon as you can.
You can the NHS App or online services to cancel appointments.
Alternatively ring 01746 762330 and leave a message containing the following information to cancel your appointment:
Patient's name
Patient's date of birth
Date of appointment
Time of appointment
If you are registered for our Text Messaging Reminder service you can reply to your appointment reminder indicating cancel appointment.
Appointment cancellation line 01746 762330
Late For Your Appointment
Please attend your appointment on time, if you are late you may not be seen. If you are not seen you will not be able to rearrange your appointment until the next working day-except in the event of an medical emergency that requires immediate attention.
Role of Reception
Why does the receptionist need to ask what's wrong with me?
It is not a case of the receptionists being nosey!
The reception staff are members of the practice team and it has been agreed by the GPs that they should ask patients 'why they need to be seen'.
Reception staff are trained to ask certain questions in order to ensure that you receive:
The most appropriate medical care,
From the most appropriate health care professional,
At the most appropriate time.
Receptionists are asked to collect brief information from patients:
To help doctors prioritise home visits and phone calls
To ensure that all patients receive the appropriate level of care
To direct patients to see the nurse or other health care professional rather than a doctor, where appropriate.
Reception staff, like all members of the team, are bound by confidentiality rules:
ANY information given by you is treated strictly confidentially
The Practice would take any breach of confidentiality very seriously and deal with it accordingly.
You can ask to speak to a receptionist in private away from reception if you wish.
If you feel an issue is very private and do not wish to say what this is, then this will be respected.
Thank you for your support